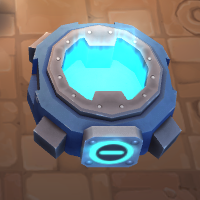 Cost: 33,750
Availability: 2F: Any Wing Purchased
A Mist Well is a furniture item that can be placed in Guild Halls.
Description
Edit
The process of removing impurities from a chunk of crystallized energy produced more mist energy than the crystal was otherwise worth. This process is commonly referred to as "science".
Obtained From
Edit
Purchased from the Birdsong Emporium for 33,750 crowns.
Available once a Guild Hall is expanded to the second floor.
Crystal Energy (minimum 500) is deposited into the Mist Well and is converted to Mist Energy with a 20% bonus. Guild members can then withdraw the Mist Energy to refill their Mist Energy meter. It can only be used to either completely refill your mist or empty the well.
Multiple Mist Wells are functionally useless, due to the Mist being shared between all the wells, rather than each well having its own separate Mist pool.