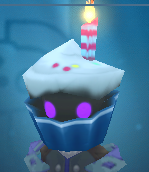 Abilities
Costume Only
Appears in "Costume" section of the arsenal

Accessory Positions
Description
Edit
A delicious helm made of cake created during the Spiral Knights Anniversary Celebration. Since it's made of cake, it eventually falls apart. Expires on Apr 23, 11:00 AM UTC.
Vendors that sell this item:
This item could be purchased with 10 cake slice tokens during the Spiral Knights anniversary celebration, Caketastrophe, and it expires on 23rd April.
None.
See Also
Edit
Guides (including opinions on weapon usage & tactics)